Buy Insulated Conex Containers Online For Sale
We know just how brutal the summer heat can get. If you're a business owner thinking of using a Conex container like "Buy Insulated Conex Containers Online," to store equipment or goods, or maybe you plan to create a modified workspace for employees, the heat might be a concern for you too.
How hot does it get inside an unmodified, non-climate-controlled Conex container? Of course, the answer depends on the outside temperature. In general, just like an automobile, a hot, sunny day that reaches the upper 80s can easily climb to more than 120 degrees inside an unmodified steel shipping container.
But before you worry, an insulated Conex container is perfectly safe. The insulation helps maintain a comfortable internal temperature, especially when paired with climate control units.
Why Insulate a Conex Container?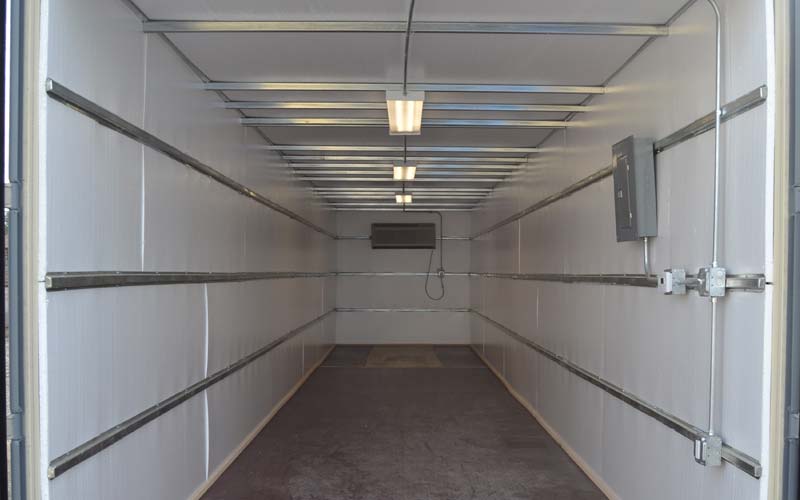 The need for an insulated shipping container depends on several factors, including where it's being stored. A warehouse or location shaded by nearby buildings, for example, will likely experience fewer temperature swings. When possible, use location to your advantage to improve energy efficiency.
The biggest driving factor that demands the use of insulation, however, is the intended use of the conex box. If you plan to store temperature-sensitive contents, you'll likely need to prioritize insulation and climate control more than you would for other storage items.
Some examples of contents that need an insulated Conex container include:
Temperature/Humidity Sensitive Equipment: If you intend to store medical equipment, IT equipment, or other machinery, you'll need to create a cool climate. Humidity and extreme temperatures can harm the integrity of equipment with components like soldered connections and circuit boards. Insulating your container can keep the temperature stable inside and keep humidity out. Controlling the internal environment can also mitigate the growth of mold and mildew spores which are common issues in high heat and humidity.
Vehicle Storage: Extreme climates have a marked effect on vehicles and their performance. Batteries can be drained, tires are more likely to blow out, and coolant can evaporate. Extreme temperatures also diminish the run time of battery-powered electric vehicles. Insulating a vehicle storage facility will impact the car's longevity and can save you from costly repair bills.
Perishable Goods: Insulating your container can keep out moisture and extreme heat which have the potential to spoil products. Some mobile medical sites or testing facilities may store perishable resources or medications, for example, and those sensitive materials could become less effective once heated beyond a certain temperature. Mobile food banks also must ensure compliance with food safety standards for the products they serve to community members, even for long-lasting food items.
Employees! Whether employees are temporarily working on a piece of equipment or spending all day in a modified container office, you'll need insulation and climate control to help keep them comfortable.
Types of Insulation for a Conex Container
There are several insulation types that can be used for Conex containers. Many of our customers opt for batt insulation, a product made of finely woven fiberglass. Batt insulation is the standard choice for insulating attics and crawl spaces, it's available in a variety of R-values, and it's generally cost-effective.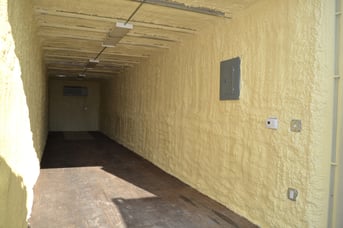 Another Conex container insulation option is spray foam insulation. The foam is sprayed on in layers to create a more heavy-duty insulation option. It's a great insulation type for temperature-sensitive storage.
Polystyrene, commonly known as Styrofoam, is another popular type of insulation. It's ideal when storing non-heat-producing assets. Installing Styrofoam is fast and easy since it doesn't require framing. Mineral wool is another great option for applications that require non-flammable materials. Sometimes called slag wool, it's used for a variety of applications from living spaces to equipment enclosures.
Insulating your Conex container can protect your equipment, your assets, and your people. Choosing the right insulation for the job can seem challenging, but we're here to guide your decision. We can help you choose the right Conex container along with the proper insulation to fit your needs. Give us a call at +1 (775) 301-5149 or email us at support@uspcontainershipping.com to request a modified container solution for your company. Let's get to work!
FAQ
Are Conex containers insulated?
Large numbers of our clients select batt protection, an item made of finely woven fiberglass, mineral fleece, or plastic.
What are the different types of insulated containers?
a vacuum cup, like a "canteen" bottle. created warm covers or liners. formed extended polystyrene froth (EPS, styrofoam), like a cooler. other formed froths like polyurethane, and polyethylene.
Are Conex containers waterproof?
Are Conex boxes waterproof? A safe Conex box for shipping merchandise adrift is watertight – it has elastic seals around the ways to keep seawater (and downpours) out of the inside. A watertight holder can likewise secure in a fluid and keep it inside the Conex box for transport without spills.
What is the purpose of an insulated duct?
Appropriately protected channels assist with decreasing energy squandering, oppose the spread of shape and strands, and diminish commotion for a more successful learning climate. However, in excess of 70% of conduits in America's structures are uninsulated.