Buy Shipping Container Doors Options Online For Sale
Shipping Container Doors Options structures are known to be affordable, mobile, and secure, but a trait that is just as important—and yet often overlooked—is a shipping container's convenience. Shipping container doors offer accessibility to the structures, so choosing the right door is a vital step in the design process. To start, we recommend you answer the following questions:
How will my organization use this container?
How often will members of my organization need to access the inside of this container?
Will my organization be storing oversized items inside the container?
Will members of my organization be working or living inside the container?
Once these questions have clear answers, you will be able to select from the following options.
1. Shipping Container Cargo Doors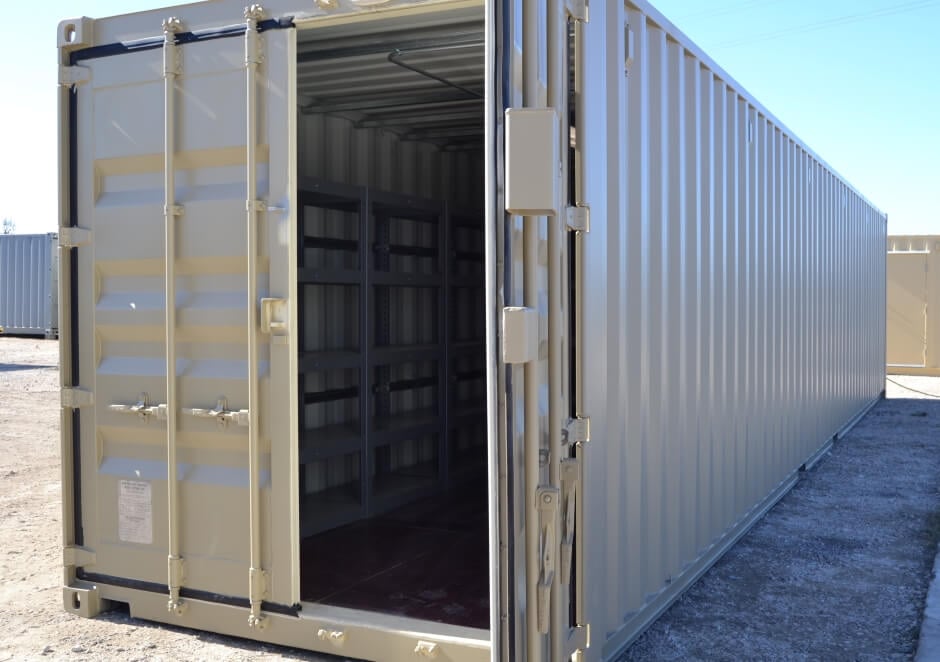 Cargo doors are heavy-duty, weather-tight, and secure swinging doors located at the end of a container. They use a cam and lock system which ensures that the contents inside the container are protected against theft and environmental threats.
Use cargo doors if,
you need to place large items easily inside the container, even by forklift.
immediate convenience is less of a priority.
2. Shipping Container Personnel Doors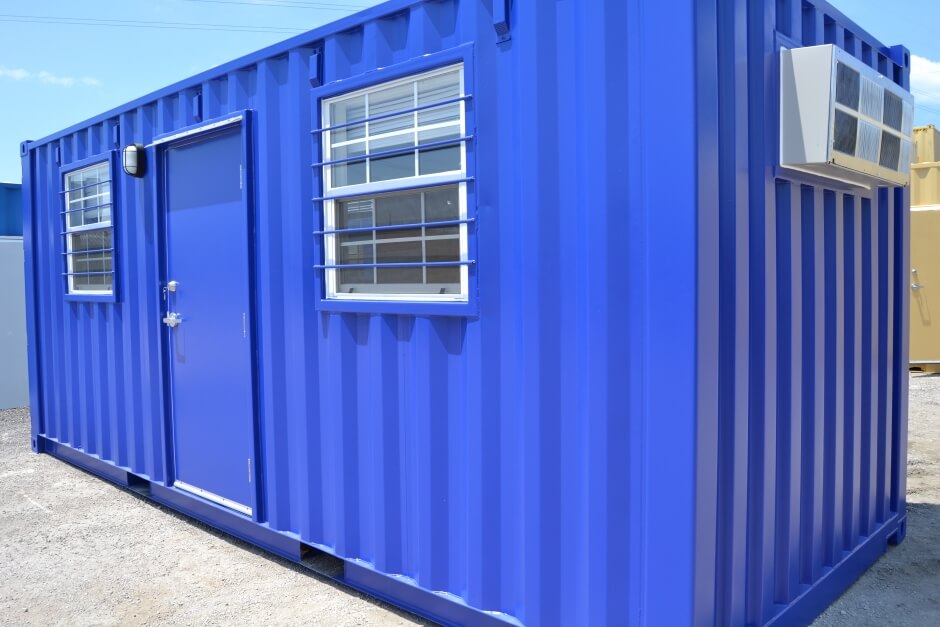 Personnel doors are made of steel and are carefully welded into the wall of the container to ensure that the structure remains wind and water-resistant. The insulated core of a personnel door works to keep containers cool in the summer and warm in the winter.
Additionally, these doors come with a deadbolt and steel lever handle, so opting for a personnel door won't compromise the security of your portable buildings. Instead, personnel doors will help keep important papers and valuable items safe. If extra security is desired, consider adding a keypad entry.
Use a personnel door if,
the container is a portable office building, living space, or storage space.
there will be a lot of foot traffic.
3. Shipping Container Roll-Up Doors
Shipping container roll-up doors, sometimes called overhead doors, are different from cargo doors in that they lift from the bottom and roll up inside the container. They are lockable, easily unlatched, and lightweight.
Shipping container roll-up doors come in a variety of widths and styles including those that are extreme-duty and wind-rated for particular environments.
Use a roll-up door if,
the container will store large equipment.
the contents need to be frequently accessed, more often than cargo doors realistically allow.
4. Shipping Container Sliding Glass Doors
Sliding glass doors are the same height and width as double-wide personnel doors but are made of durable glass framed with vinyl. These doors come with secure locks that leave the interior protected, although they shouldn't be considered as secure as the alternative doors mentioned since they are transparent.
Use a sliding glass door if,
the container is used as an office, storefront, or living space.
you desire a stylish design and natural light.
5. Shipping Container with Side Doors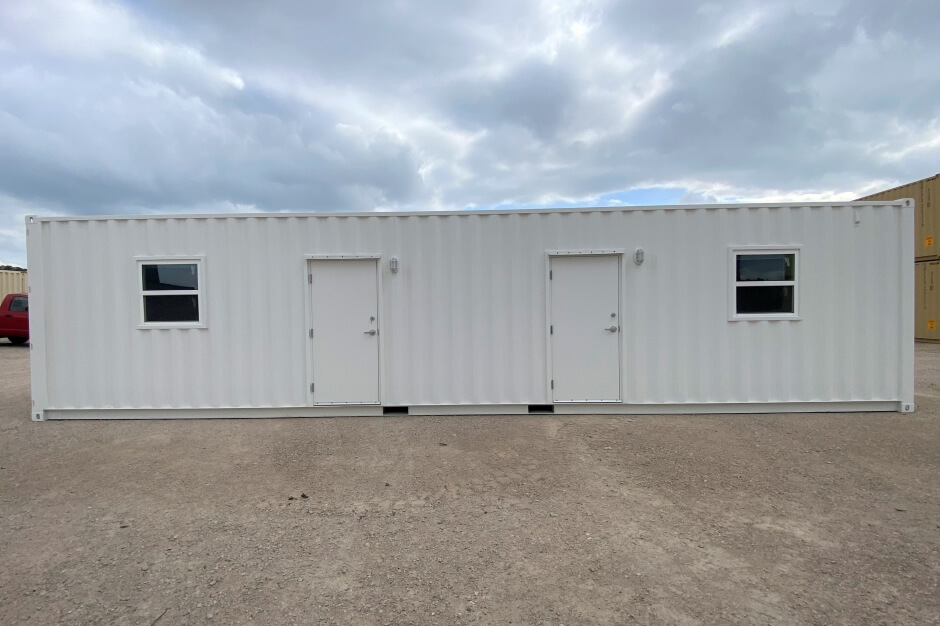 Shipping containers with side doors come with a variety of options. Sometimes people request personnel doors, roll-up doors, and occasionally cargo-style doors to add to the long side of a container.
Use side doors if,
you need access to the long side of a container.
you can narrow down which door option you want when talking with a container modification manufacturer.
6. Shipping Container Door Combinations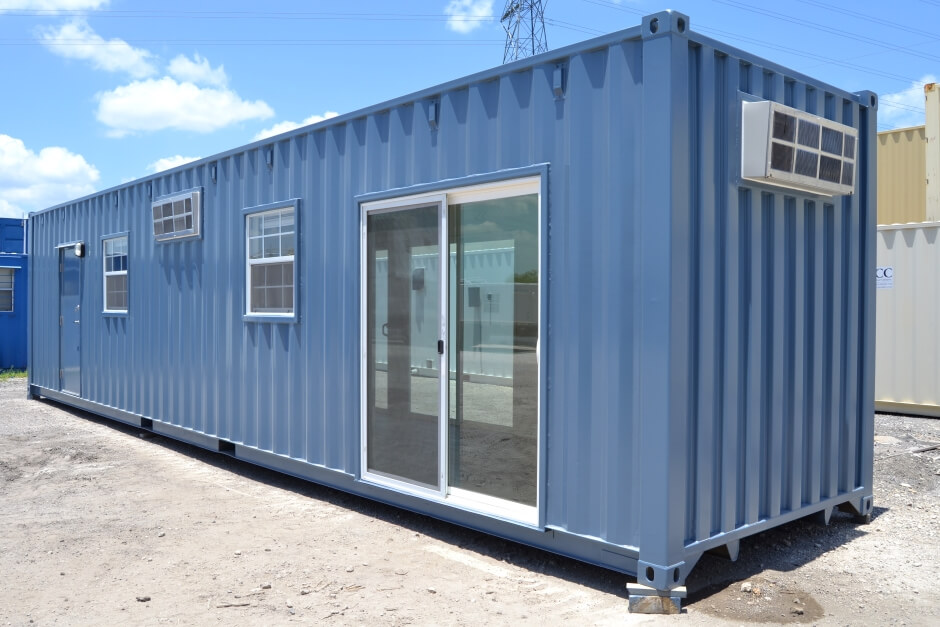 For larger containers, especially those that use a combination of storage and work space, it's common to consider multiple entryways. Extra doors are one of the most popular modification options for shipping containers.
The design of a shipping container structure should fit the specific needs of that particular project. Whether you need to frequently access the interior of your container or move items in and out with ease, there's a door option—or multiple—that can help.
Have questions about what door is right for your project? Reach us at, +17753015149 or E-MAIL SUPPORT@USPCONTAINERSHIPPING.COM to speak with our shipping container experts.
What are the 6 types of shipping containers?
The six fundamental kinds of delivery holders incorporate standard compartments, high-shape holders, refrigerated holders, level rack compartments, open-top compartments, and tank holders.
What are the 5 types of container ships?
Holder ships are recognized into 7 significant size classifications: little feeder, feeder, feeder max, Panamax, Post-Panamax, New Panamax, and super enormous.
What is the classification of containers?
We should investigate the order of compartments. As per the sort of products stacked, there are dry steel trailers, mass compartments, fluid mass holders, dope compartments, and a few unique extraordinary holders, like auto compartments, domesticated animals compartments, creature skin compartments, and so on.
Why are shipping containers 53?
The extra limit takes into account better gear assignment.