By adding shipping container wheels to your home, you open up the possibility of making your home mobile. This is a great feature if you like to move around a lot. USP Container Shipping With your home on wheels, The Best Shipping Container Wheels for Your Home you can easily change locations without having to move or pack everything up. Knowing what kinds of shipping container wheels are available can help you make the right choice for your home.
Why Use Shipping Container Wheels?
When you add shipping container wheels to your home, you are opening up many possibilities. Being able to move your home on a whim is one of the things that make these homes a great option. By adding wheels, you can easily tow your container home or even make minute changes in location. If you are interested in having the mobility of an RV without the hassle, shipping container wheels are a great choice.
Shipping container wheels can also be incredibly effective if you want to move your home during different seasons. If one side of the property gets more sunlight in the winter, shipping container wheels allow you to take advantage of that. By adding wheels, you can easily move your home around without renting a crane. Choosing the right shipping container wheels will help you make the process as easy as possible.
What to Look for in Shipping Container Wheels
Before you can decide on a set of shipping container wheels, you have to know what your needs are. Not all shipping container wheels are going to be right for your particular home. You want to ensure they have the right weight rating for your home. Knowing they will be able to hold the whole weight of your shipping container home is essential.
You also want to know what kind of terrain the wheels will be able to roll on. If your container home is on soft, rugged terrain, you need the right shipping container wheels. Generally, this will be dictated by the clearance of the wheels and their diameter. However, the larger the diameter, the less weight they will be able to carry.
The Best Shipping Container Wheels
ContainGo End Wheels
Fortunately, most shipping containers will have holes in the bottom end that are designed to clip wheels into. ContainGo End Wheels are specifically fabricated to fit into these holes without using any tools. Because of this, they don't have to stay in your container home permanently and can be removed. This makes them a great choice if you want the option to move it but don't want to do it often.
These wheels are meant to slide directly into the holes in the bottom of the container for moving it on-site. Using just a light-duty forklift, you can then tip the container and move it wherever you want. They are rated for 8,000 pounds per wheel, which means they will be more than sufficient for your home. However, because they are only 9 inches in diameter, they should only be used on hard surfaces.
EZY Engineering Extreme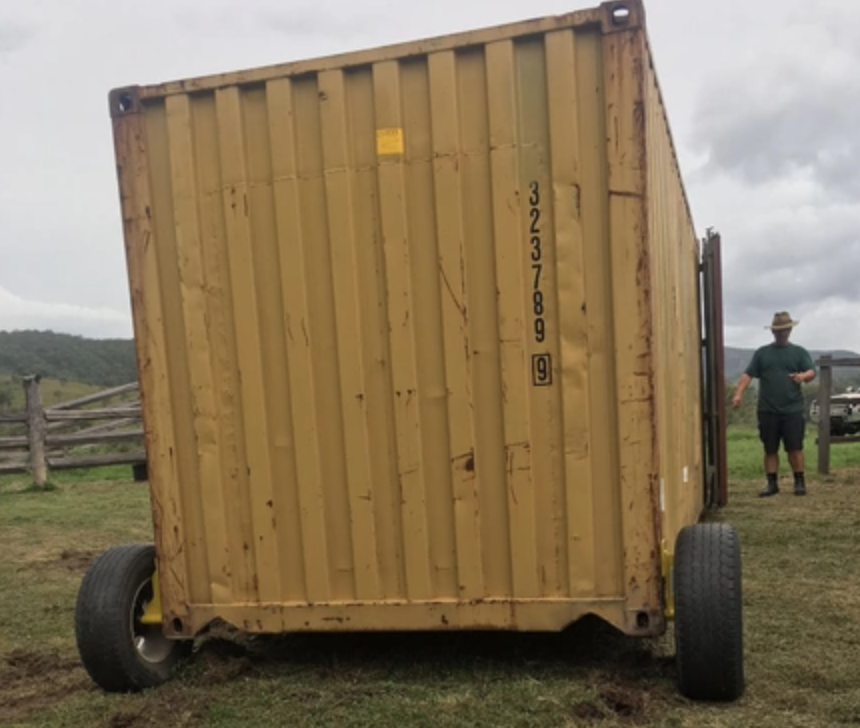 If you need to move your container home on soft, rugged terrain like grass or dirt, EZY Wheels has a solution for you. Their wheel assemblies are designed to mount to any shipping container and include the rack and hub. This means that you can add any size of wheels that you want. Because of this, you can move your home on nearly any terrain without any difficulty.
The heavy-duty, Extreme version of these shipping container wheels is rated for 6.5 tons per axle. This rating allows you to tow your container across rough terrain without any issues. This will be more than enough weight for nearly any container home and will even work for multiple containers. Making sure that your shipping container wheels can handle the job should be your top priority.
MYTEE Products Shipping Container Casters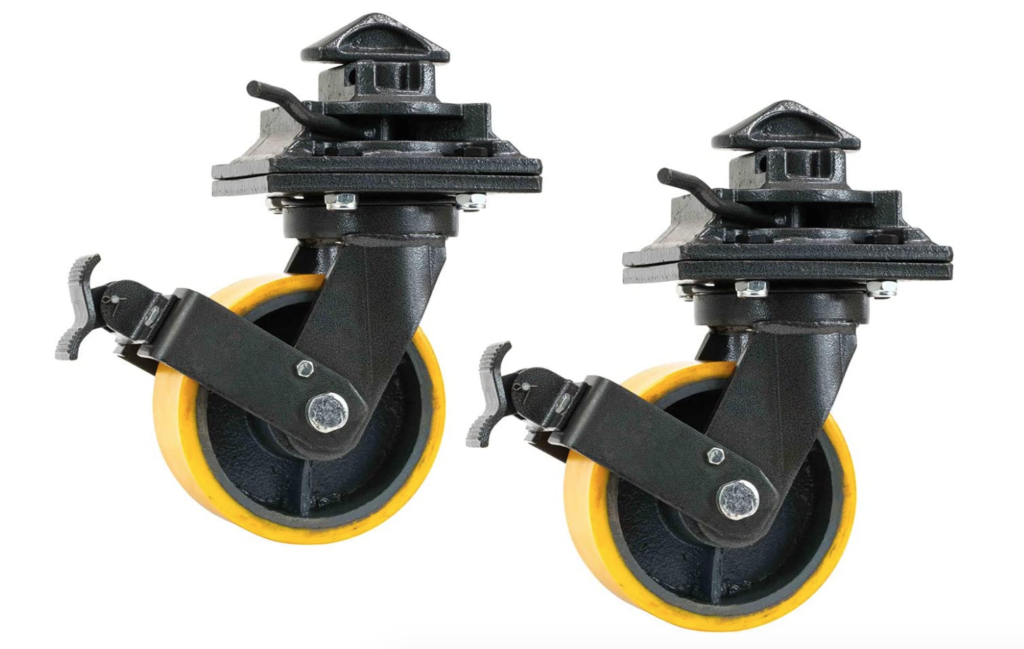 If you want to keep your home up on the casters, these shipping container wheels are a great choice. Not only do they keep your home mobile, but they can also act as a de facto foundation. This keeps your home up and off the ground and ensures that you can move it if need be. How to Use Shipping Containers in Your Warehouse!
This should be more than enough for single-container homes. They also have a low profile with a diameter of just two inches. If you want shipping container wheels that are sleek and functional, these are a fantastic choice for you.
Pacific Marine & Industrial Shipping Container Casters
When searching for professionally-rated shipping container wheels, you want the very best. With a double-wheel design and a weight rating of up to 17,000 pounds, The Best Shipping Container Wheels for Your Home are a great option. You can create custom wheels for your container home that match your needs.
Conclusion
Finding the right shipping container wheels for your home is a great way to make moving convenient. The right wheels are essential whether you want to move your container cross-country or across a property. By considering your needs, you can find the perfect shipping container wheels for your purposes.
If you would like more helpful advice, be sure to check out the rest of USP Container Shipping.com. There, you will find all kinds of tips and tricks from the pros and featured homes. +1 (775) 301-5149  or email us at E-MAIL: SUPPORT@USPCONTAINERSHIPPING.COM We're happy to discuss your project in greater detail.
Must Read: Why to Choose shipping container bar is Best for Us: 10 Reasons
FAQ
Question: Can I put wheels on a shipping container?
Answer: Wheels may be readily mounted on your shipping container by mounting them to each corner of the container. After that, you may attach the container to the bumper of your car.
Question: What is the best base for a container home?
Answer: The finest foundation for container houses is a concrete slab foundation. This is the most expensive choice, but if you want to stay in the same location for a long time, it is a reasonable alternative.
Question: Are shipping wheels expensive?
Answer: Using UPS or FedEx ground services, prices can range from around $21 for Zone 2 to roughly $62 for Zone 8.